Reflecting on over a Century of GAA Handball in Loughmacrory with Night of Celebration and Exhibition: CLICK HERE: https://www.gaahandball.ie/news/1reflecting-on-over-a-century-of-gaa-handball-in-loughmacror
ENTER the 2023 Lough Wallball Showdown – CLICK Here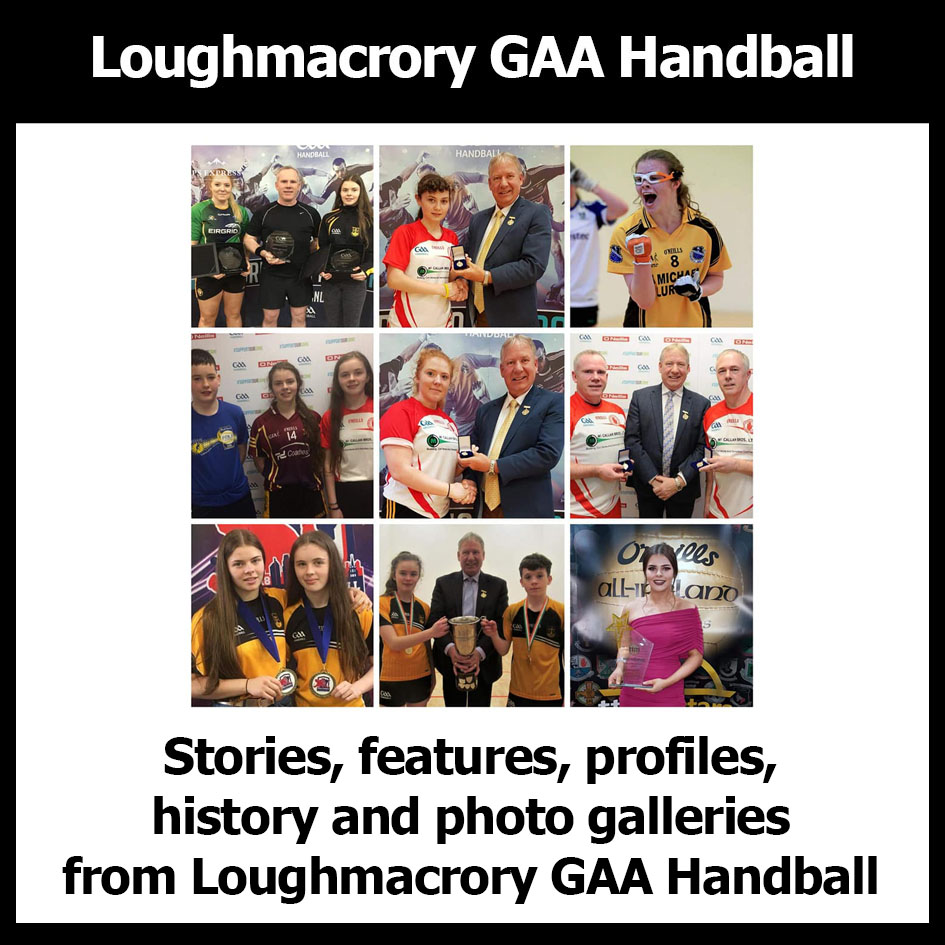 ---
All up to date stories, news, events and activities can be found on the Club's Official Facebook Page – Link below.
---
---
March 2022 saw Loughmacrory GAA Handball Club hold its AGM. Due to the two year break from GAA Handball activities, outgoing Chairperson Chris Curran highlighted the many successes on and off the court over the previous years (2019-2021) and reflected on the sad losses over the previous few years including the passing of Micky Conway, Peter Curran and John Curran.
Click here and on the Report Image below to Read the Full Loughmacrory GAA Handball ANNUAL Report looking at the 2019-2021 years in the Club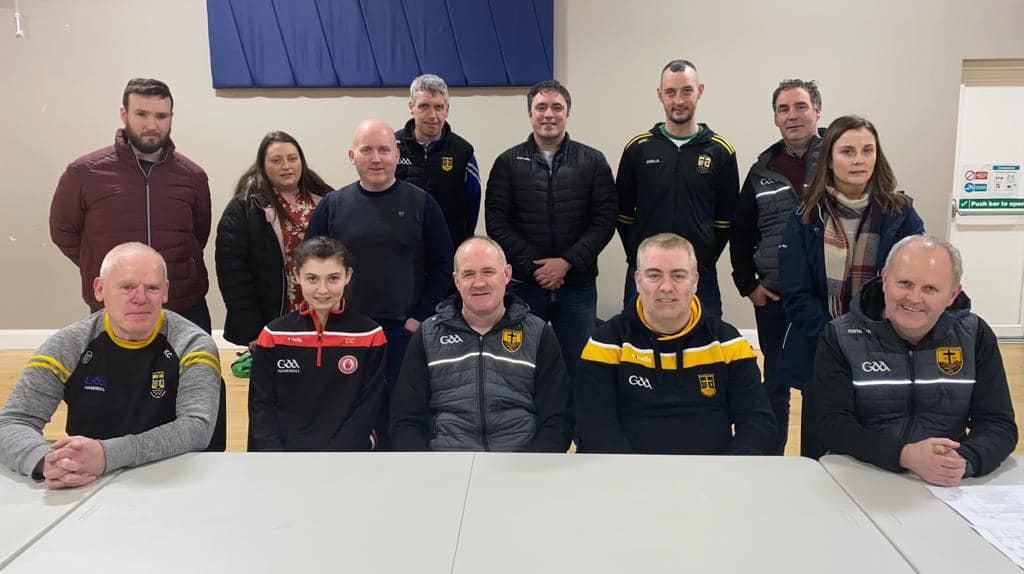 Loughmacrory GAA Handball Committee 2022:
Chairperson – Martin Toner
Vice chairperson – Jarlath Duff
Secretary – Damien Mullin
Assistant secretary – Barry Fox
Treasurer – Shane McCullagh
PRO – Kenny Curran
Children's Officer – Clare Conway
Development Officer – Conor Duff
She's Ace Officer – Clare Conway
Coaching Officer – Martin Mc Crystal
Youth Committee – Barry Fox, Kenny Curran, Conor Duff, Martin Mc Crystal, Damien Mullin
County Board delegates – Martin Toner, Barry Fox, Damien Mullin
Committee Members – Chris Curran, Ciara Fox, Benny Mc Aleer, Majella Mc Aleer, Dermot Moxon, Catherine Kelly, Finbar Fullen, Catherine Kelly.
---

Handball has enjoyed a rich tradition in Loughmacrory for almost 150 years but the 1st official committee was formed back in 1968 – yes we will be celebrating the 50th Anniversary of the Handball Club in Loughmacrory in 2018! The club upgraded the outdoor court by building and officially openning the 1st fully covered 60×30 court on Sunday 13th April 1969 (also one of the first in the country).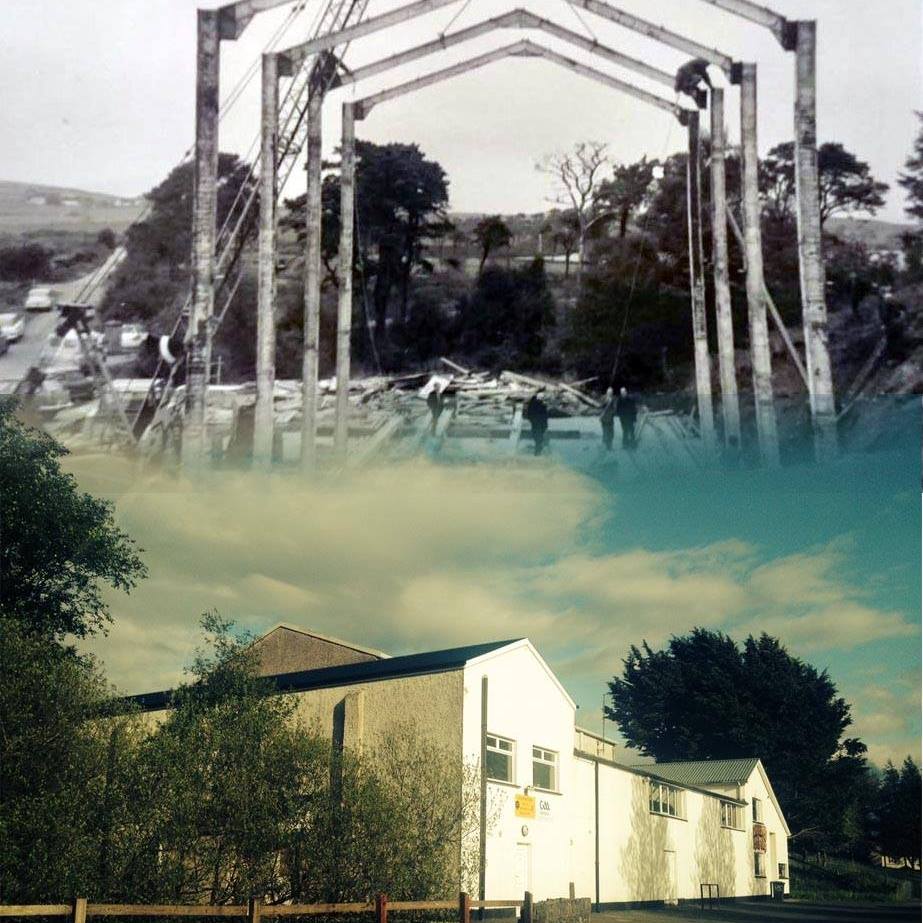 A souvenir programme entitled "A Hundred Years of Handballing", produced to mark the opening of the new alley in 1969, tells us that in 1932 local men Owenie McKernan and Jimmy Mullan, under the direction of Loughmacrory curate Fr Stephen Taggart, collected ten pounds, bought the gate house to Loughmacrory Lodge and built a ball alley on the site. This open alley was modernised several times over the years and handball continued to be played until 1967 when the sidewalls were blown down in a severe windstorm. Locals were determined that this would not be the end of handball in Loughmacrory and in 1968 a committee was formed, fundraising took place, the site cleared and the present 60 x 30 built, mainly by voluntary labour. A community hall was then built alongside the handball alley.
The club also added a new International 40×20 handball court which was officially opened in 1981 & the latest addition saw a unique outdoor, fully covered, One Wall International Handball Facility with 3 full sized courts on 28th June 2014. This designed One Wall Arena was initially planned for the rear of Croke Park as part of a new National Handball Centre at the GAA HQ.
The club have had many county, provincial, All Ireland and indeed World Champions in its long illustrious history including
• Tyrone's first ever All Ireland Champion back in 1970 when Mickey Conway claimed the All Ireland Junior title.
• Ciaran Curran became the first ever Ulster handballer to win an All Ireland Juvenile title when he took the Under 12 honours in 1984 and he added 5 US National titles, a World title in 1994 and reached the All Ireland Senior 40×20 Singles Final in 1999 as well as the World Open Senior Singles semi final in 2003, losing in a tie-break to Cork's Tony Healy.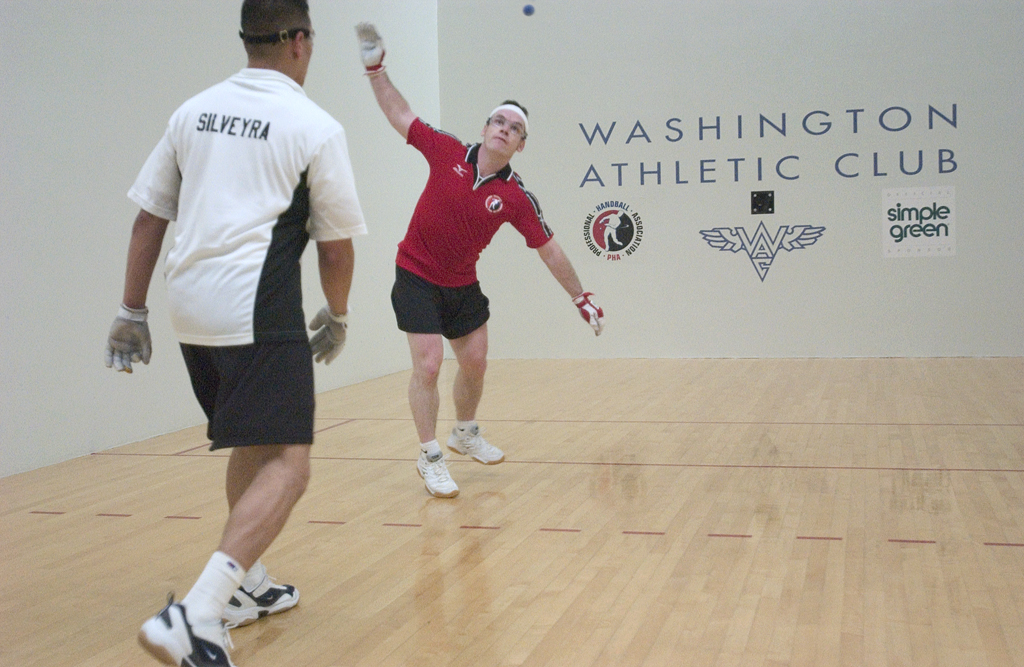 • Aoife Kelly, Antoin Fox and Mairead Fox have all enjoyed US Junior National success in recent times
• Antoin Fox and Dara Curran claimed World Championship gold medals in Dublin in 2012 with the World 11 & Under doubles success and also lost in the final of the 40×20 in the same grade
• Also at the Worlds in 2012, Loughmacrory had runners-up in Ciaran Curran (Mens 35+ Singles) and Aoife Kelly (Girls 15&U)
• Dearbhail Fox was a World 11 & Under doubles champion in 40×20 at the 2015 Worlds in Calgary, Canada, while Antoin Fox (2) and Mairead Fox were also Silver medal winners in their grades at 15 & Under and 13 & Under level respectively.
A large number of players from the club have celebrated All Ireland Juvenile Championship & National titles over the years including an All Ireland Under 14 clean sweep by Ciaran Curran in 1986 and 1987, Brian Donaghy in 2003 and Aoife Kelly in 2010.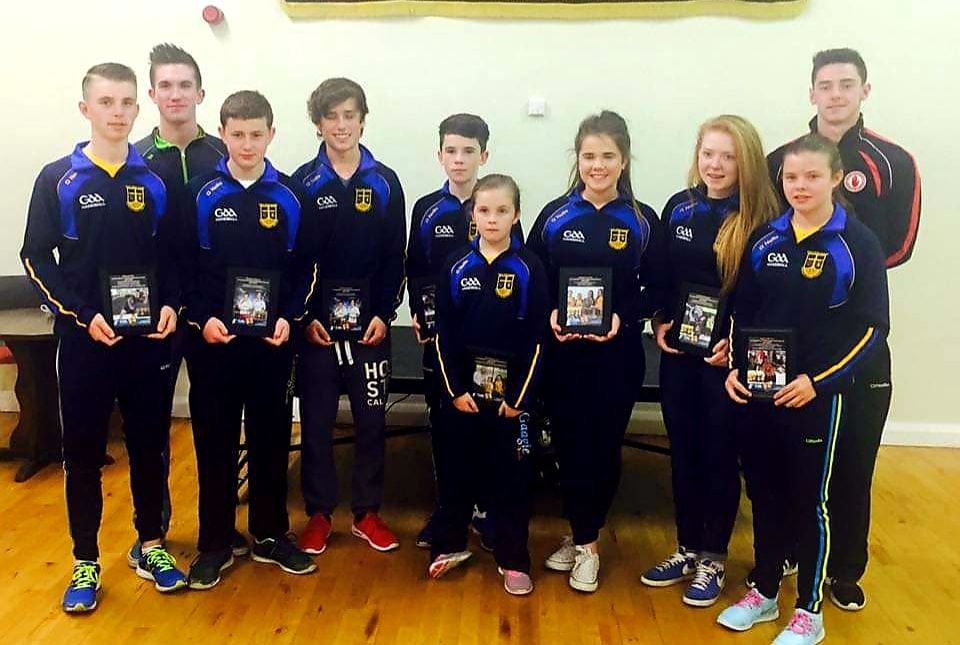 2015 was a big year for the club as it bridged a considerable gap at Juvenile level when Antoin Fox (Boys Under 15 Singles) and Shane Grimes & Ronan Curran (Boys Under 15 Doubles) completed the All Ireland 40×20 clean sweep in their grade. This followed on from All Ireland 60×30 Doubles Championship titles at Under 14 level in October 2014 from Caitlin Conway (girls) and Antoin Fox (boys).
Other notable achievements include a Guinness World Record 80 hour Handball Marathon by six members (John McCullagh, Pat O'Brien, Kieran Kelly, Pat Kelly, Paddy McGurk and Packie Coyle) in 1978. Hugh Duff also captured the All Ireland Masters Singles Championship title in 1985 and claimed the doubles crown with MJ Kelly.
The Club celebrated All Ireland Division 1 Feile success for the very first time in the GAA Centenary year in 1984 and next followed up again in 2003. In 2014 the club then secured an All Ireland Feile na nGael Division 2 double in Girls and Boys grades, the first time achieving the feat across the codes.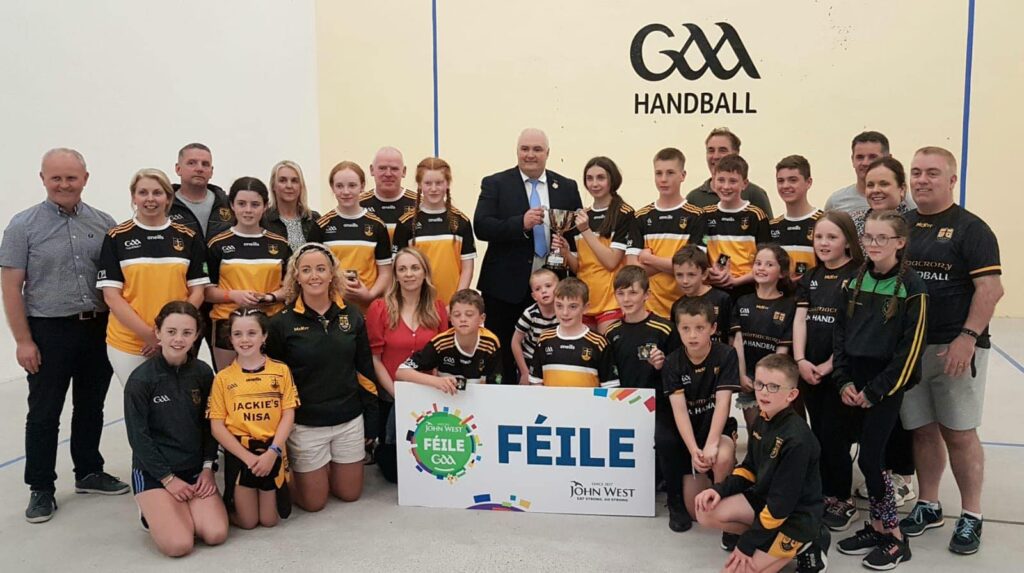 It is in more recent times though that the Club have really excelled with historic doubles across both codes – 40×20 and 60×30 in Division 1 Feile na nGael, in both the Boys and Girls codes.
---
The Club's previous successes in the past in the Féile na nGael at the highest level in Division1 saw that first success in 1984 (Chris Curran, Shane Kelly, Niall Curran, Seamus Curran) and then 19 years later when the club also won the Division 1 title in 2003 (Brian Donaghy, Conor Duff, Paul Donnelly, Sean O'Kane).
The Club also tasted success in the 1992 60×30 Division 2 Féile na nGael title with the team of Shane McCullagh, Eunan Donnelly, Carl Curran, Ciaran Meenagh, Aidan Toner. The club have also had a number of teams who lost in finals of Division 1 over the years.
---

At Feile na nGael 2014 the Boys team of Antoin Fox, Dara Curran, Ronan Curran, Shane Grimes, Diarmaid Gallagher won the Boys Division 2 40×20 title and the Girls team of Aideen Curran, Caitlin Conway, Mairead Fox and Michaela Curran won the Girls Division 2 title. This was the first time ever that the club completed a Feile Boys and Girls double at the prestigious National Event.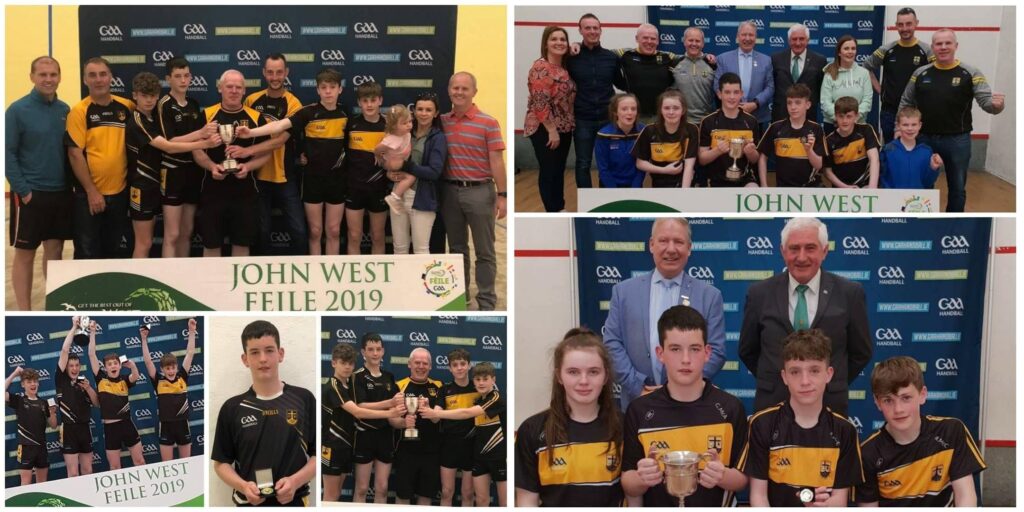 The club have also had a number of players to have won Division 1 Féile na nGael Skills events. In 40×20 Boys Ciaran Curran won three consecutive Division 1 Feile skills golds from 1985, 1986, 1987 and Conal Curran winning Division 1 Skills gold in 1988. In 40×20 Girls Lisa McAleer was the first Division 1 Féile Skills winner in 2000 and Karen Kelly won the Division 1 Skills in 2002 and Aoife Kelly won the Division 1 Skills in 2011. In 60×30 Ciaran Meenagh won the Féile Division 1 Skills gold in 1994 and Conor Donnelly won the Division 1 60×30 Féile Skills in 2005. Antoin Fox became the latest name to be added to the prestigious Division 1 Skills roll of honour when he took gold at the All Ireland Feile skills on 21st June 2014.
In the 60×30 All Ireland Club Senior Championship of 1980, Loughmacrory also reached the All Ireland final against Talbot's Inch of Kilkenny with the team of Hugh Duff, John Curran, John McCullagh and Packie Coyle.
In the All Ireland 40×20 Club Championship the club had Junior title success in 2003 (Team of Chris Curran, Conal Curran, Ciaran Meenagh, Stephen Conway). Three players from that team went on to win the club and county's first Ulster Mens Open Senior Club Championship title in 2007 when they defeated St. Pauls HC, Belfast, and then Gort na Mona in the provincial decider.
The team went to become All Ireland Senior 40×20 Club Championship Runners Up (Team of Chris Curran, Ciaran Curran, Ciaran Meenagh, Stephen Conway) in 2007 to Ballaghadereen (Dessie Keegan, Joe McCann, Vinny Moran, Paul Flynn), having defeated the Kells, Meath team of Tom Sheridan, Brian Carroll, Carl Browne and Gary McConnell en route to that final.
Long-term Club Chairman, Chris Curran, was also CEO of GAA Handball Ireland (Jan 2009 to April 2013) and visualised, planned and overseen the record breaking World Championships in Dublin in 2012 in addition to launching the Irish Junior 40×20 Nationals event and launching the GAA Handball One Wall Nationals in Breaffy in 2009, which seen entries of over 500 in 2011 and 600+ in 2012. John Curran, a long-standing Club and County Chairman, was also Ulster GAA Handball Chairman from 1989 to 1993 and served on GAA Handball Ireland Central Council for over a decade.
---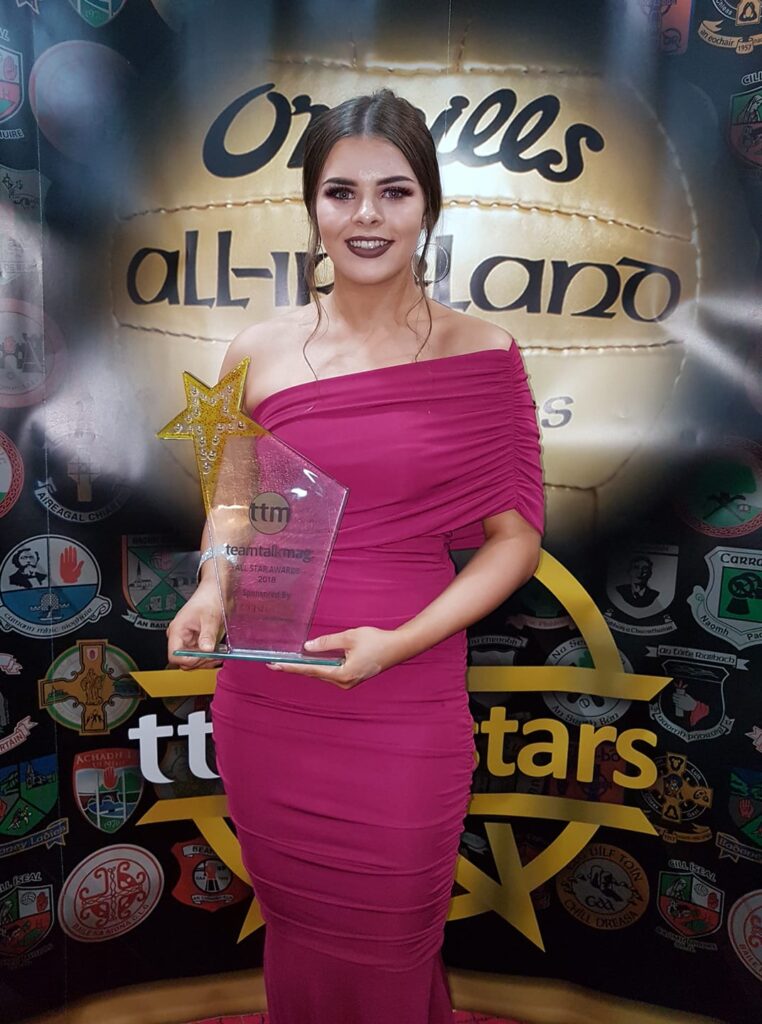 ---
The committee have made big strides in recent times, in rebuilding a youth policy with coaching now taking place 6 days per week and the launch of the unique new 3 court covered One Wall Facility has seen further massive progress in an illustrious history of the club.
In August 2014 the handball club organised one of the biggest ever Tournaments staged in Ireland when 252 players competed in the inaugural Lough 1Wall Showdown. Over 1,000 spectators also packed into the arena over the course of Finals Day on the Sunday in what was a record-breaking weekend for the club. It should be remembered that this event was 100% organised and ran by Volunteers in the club and community! It also saw a very international flavour as Puerto Rico's Wally Amaro travelled 4,000 miles to win the first ever title, defeating local hero and One Wall National Champion, Conor McElduff. The first Ladies Open title was won by World Number 1 player, Cork's Catriona Casey in a field which had 4 world champions. The event was staged for the second time in July 2015 (earlier date with Worlds 2015 in Canada in August) and saw Open title wins for Irish Open champion, Conor McElduff, and again by Cork's Catriona Casey.
The Club resumed the highly prestigious biggest National Ranking Club Tournament in Ireland – The Lough Wallball Showdown – in August 2022 and again proved a huge success.
Lough Wallball Showdown 2022: https://www.gaahandball.ie/news/enthralling-finals-at-lough-showdown-2022