What is Cairde Loch Mhic Ruairí?
Cairde Loch Mhic Ruairí is about Loughmacrory people, whether still living in the community or further afield, coming together to support our club's development and continuing to build on the fantastic facilities our community has worked so hard to deliver.
The GAA has been built upon and has thrived on a simple yet very powerful principle – People contributing but asking for nothing in return. YOU contribute to enrich the communities we serve. YOU give because you believe in the value of your culture, your identity, your games, your place, your people and your community.
Cairde Loch Mhic Ruairí was launched in 2007 with all members having contributed either the £20 option or £50 option per month. These donations have been instrumental in the ongoing development of our club grounds and facilities which has provided the ultimate reward for our members and in turn everyone in our community.
We currently have circa 80 loyal members but have ambitions to increase this to 200 to facilitate our future developments.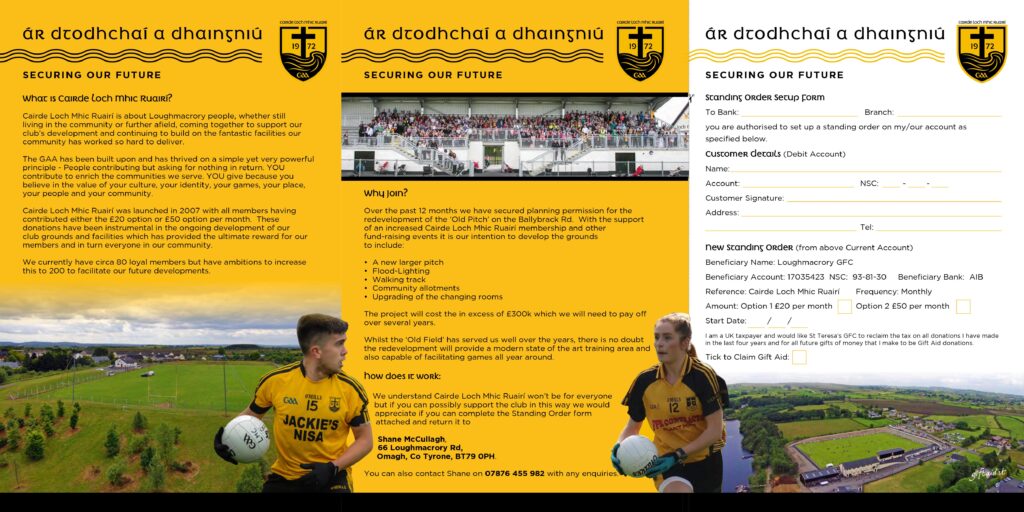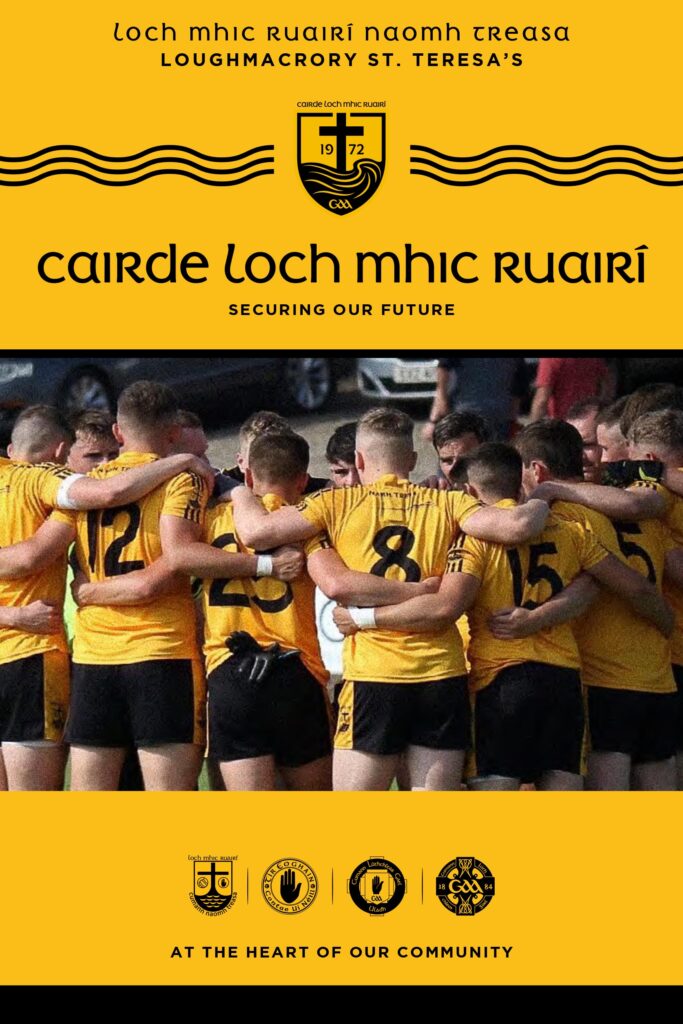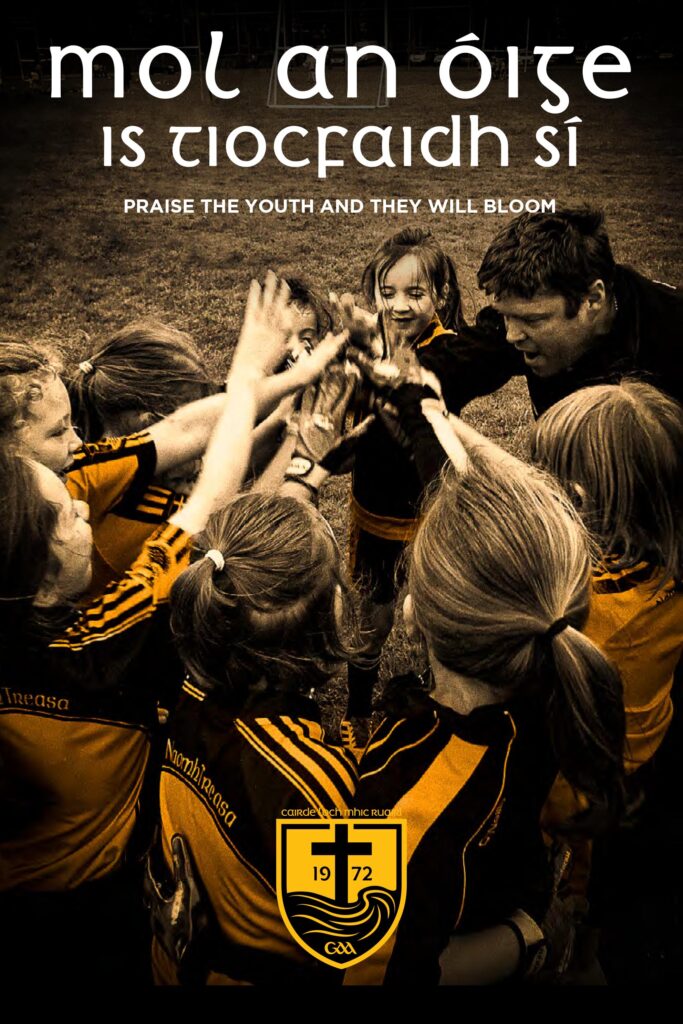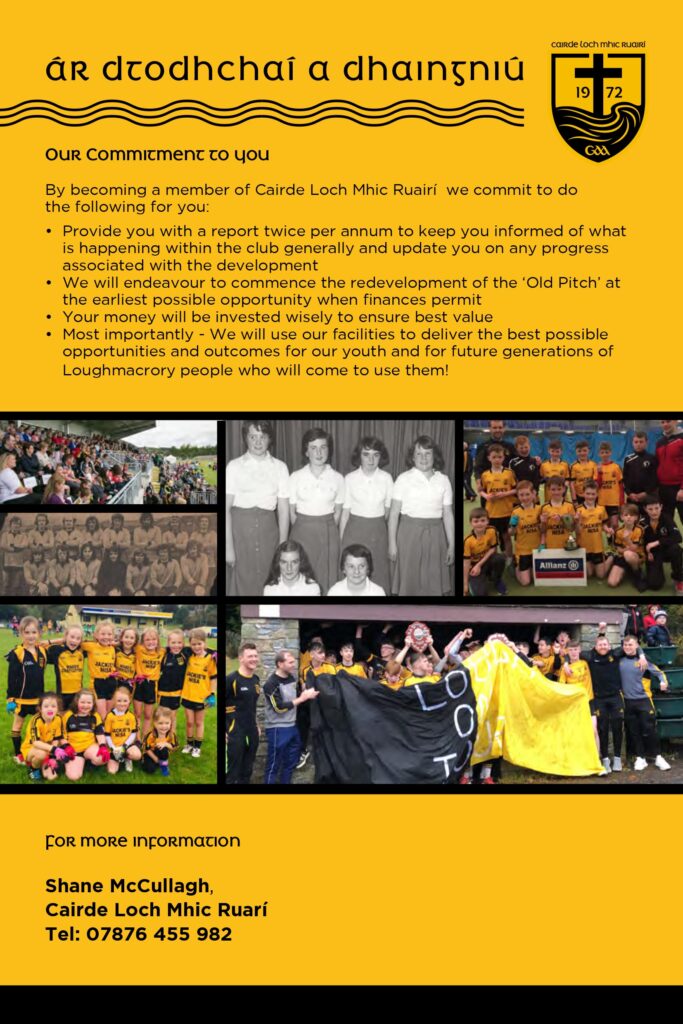 Why Join?
Over the past 12 months we have secured planning permission for the redevelopment of the 'Old Pitch' on the Ballybrack Rd. With the support of an increased Cairde Loch Mhic Ruairí membership and other fund-raising events it is our intention to develop the grounds to include:
• A new larger pitch
• Flood-Lighting
• Walking track
• Community allotments
• Upgrading of the changing rooms
The project will cost the in excess of £300k which we will need to pay off over several years.
Whilst the 'Old Field' has served us well over the years, there is no doubt the redevelopment will provide a modern state of the art training area and also capable of facilitating games all year around.
How does it work:
We understand Cairde Loch Mhic Ruairí won't be for everyone but if you can possibly support the club in this way we would appreciate if you can complete the Standing Order form attached and return it to:
Shane McCullagh,
66 Loughmacrory Rd,
Omagh, Co Tyrone, BT79 0PH.
Our Commitment to you
By becoming a member of Cairde Loch Mhic Ruairí we commit to do the following for you:
Provide you with a report twice per annum to keep you informed of what is happening within the club generally and update you on any progress associated with the development
We will endeavour to commence the redevelopment of the 'Old Pitch' at the earliest possible opportunity when finances permit
Your money will be invested wisely to ensure best value
Most importantly – We will use our facilities to deliver the best possibleopportunities and outcomes for our youth and for future generations of Loughmacrory people who will come to use them!
For more information
Shane McCullagh, Cairde Loch Mhic Ruarí Tel: 07876 455 982